Do you sell parts or equipment to the trucking industry? If so, consider becoming a TAT Dealership Partner today.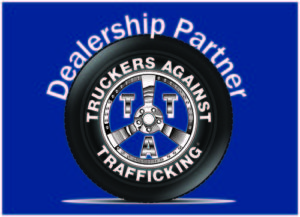 STRATEGY
The trucking industry is making a critical difference in the fight against human trafficking. As a resource to the industry in that fight, TAT needs influential distribution points for its materials if the movement is to continue to grow. Using your resources, both financially and influentially, to spread the word is an effective way to fight this heinous crime and be an everyday hero.
IMPLEMENTATION
Become a TAT Dealership Partner (TDP) by sponsoring TAT annually and become a point of distribution for TAT materials. When you do, we'll send you a kit of materials to display within your store, including a decal that signifies you are a TAT TDP. Through these simple actions, you have the opportunity to affect the lives of those exploited by human traffickers in significant ways and ensure that your site and your vocation help end modern-day slavery.
Sponsorship Levels:
1-15 Locations – $2,000 per year
16-30 Locations – $5,000 per year
30+ Locations – $7,500 per year
Thank you to our TAT Dealership Partners: