TAT has been hard at work this summer, and we're proud to share some new resources – Check out our three new toolkits for transportation professionals in the trucking, transit, and school bus industries!
Each toolkit provides specific information and tools that will help industry stakeholders implement our training and strengthen anti-trafficking efforts.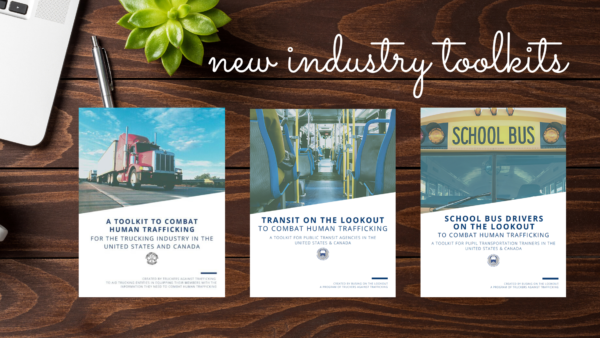 For trucking
For transit
For pupil transportation professionals
TAT and BOTL created these toolkits as a direct response to what we were learning from our industry partners across the board, and to the questions most frequently asked as companies and agencies embarked on their anti-trafficking initiatives. Particularly now, with COVID-19 hampering in-person presentations and trainings, we wanted to provide step-by-step guidance for management and trainers that highlights where there may be intersections between these industries and human trafficking, with ample case studies and resources.
Throughout the summer, we will continue to add to this toolkit series, so stay tuned! Next up: an Empowering Freedom toolkit for energy professionals.