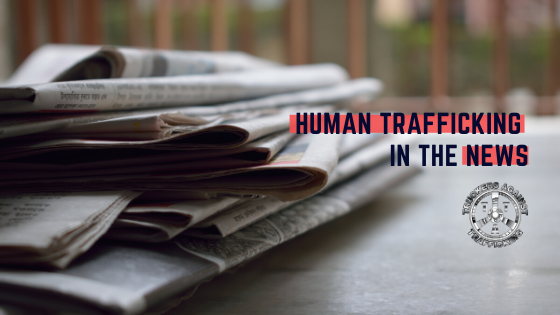 Here's a round-up of news articles we've been reading this week about human trafficking:
Father describes the pain after Mesa teen found dead along I-10, warns of human trafficking
ARIZONA – On May 22, a body was found on the median along Interstate 10, identified as Anaiah Walker. According to her father, she was caught in the grip of human trafficking in 2018. She escaped and went into a group home, but then ran away in December.

Toronto police officer, 9 men charged in human-trafficking investigation involving 16-year-old girl
TORONTO – A Toronto police officer and nine other men have been charged in a human-trafficking investigation involving an underage girl. Since November 2019, the force's human-trafficking team has been investigating the sexual exploitation of a 16-year-old girl.
Sucked into sex trafficking, London woman shares experience in wake of LAWC funding cuts
ONTARIO – A London, Ontario woman shares her experience becoming an exotic dancer to pay college costs and falling victim to sex trafficking.
Human trafficking victims rescued, man charged
KENTUCKY – State investigators and Louisville Police have rescued two women — ages 17 and 19 — who were victims of an alleged human-trafficking operation. They've also charged one man who was arrested on the way to take the two women to a hotel where he thought he was meeting someone who intended to buy them.
U.S. emergency trafficking hotline says calls spiked under lockdown
Polaris reports that the number of people seeking emergency shelter to escape human trafficking surged in April amid the economic and social turmoil of the COVID-19 pandemic. The number of cases in which people contacted the National Human Trafficking Hotline seeking shelter nearly doubled to 54 in April from 29 in March.
Baltimore businessman paid $90,000 to sex-trafficking operation, feds charge
MARYLAND – A 64-year-old Baltimore financier has been arrested on federal charges that he spent $90,000 on a sex-trafficking business.
Hotel allegedly turned blind eye to sex trafficking: lawsuit
ARKANSAS – A woman claims in a lawsuit that a North Little Rock hotel allegedly turned a blind eye when she was forced to work as a sex slave at one of its properties. The woman, identified only as Jane Doe, says workers at the motel ignored her desperate cries for help between March and August last year.
More work needed to combat human trafficking along I-85, Lee County
ALABAMA – Multiple agencies in Lee County have gotten together this year to discuss the growing problem of sex and human trafficking. "It's very important for us to be vigilant because it could be and probably is going on right under our nose and we don't know."