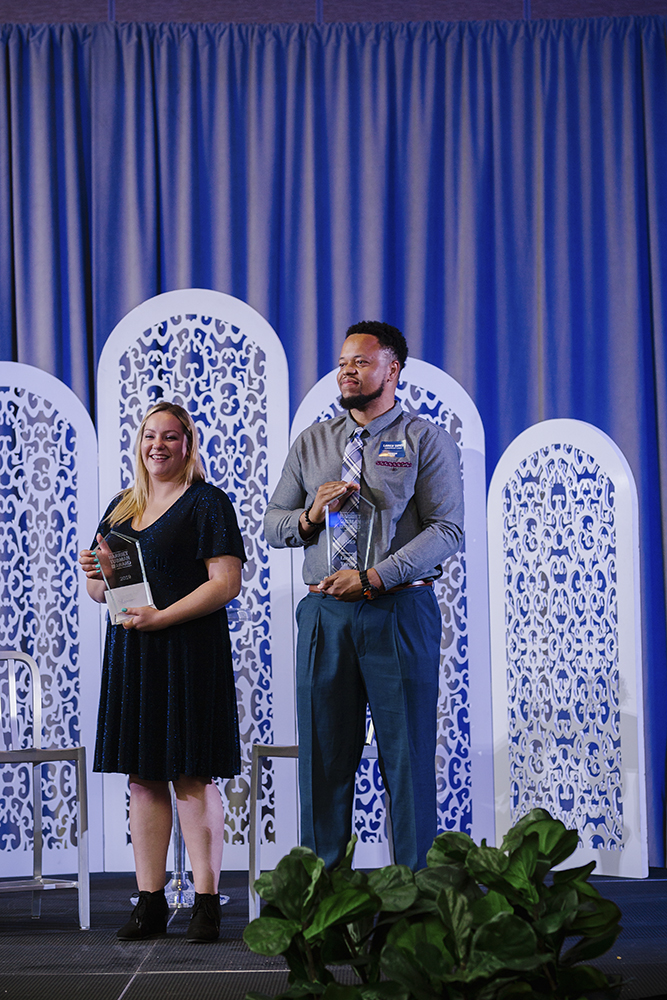 Larren Tarver, Lakefront Lines bus driver, and Lauren Gnall, district safety director for Lakefront Lines and Coach USA, have received the 2019 TAT Harriet Tubman Award presented by Protective Insurance.
The award, which carries with it a $2500 check, is named in honor of famed abolitionist Harriet Tubman, whose courageous personal actions resulted in the transportation of 300 slaves to freedom through the Underground Railroad and whose overall role in the freedom movement was instrumental in the freeing of thousands more. Born into slavery in 1820, Miss Tubman was the first African American woman buried with full military honors and the first to have the inaugural Liberty ship named after her – the SS Harriet Tubman – by the US Maritime Commission.
When the Lakefront Lines Bus Team in Ohio, which had recently completed the Busing on the Lookout (BOTL) training, was notified that a female passenger on one of their buses was allegedly being held against her will and forced into prostitution by a male passenger on the same bus, they immediately sprang into action. As Tarver calmly stopped the bus, he reassured the other passengers, while being as inconspicuous as possible about the reasons for the delay. He notified dispatch and triggered an internal response system within the Lakefront Lines Safety Team that swiftly communicated with law enforcement and ensured police were on the scene as quickly as possible. Gnall and a colleague met the bus on the side of the highway almost immediately. Before the bus got back on the road – and safely transported the other passengers to their destination – the suspect was arrested; the alleged victim was recovered; and the case was referred for further investigation.
"TAT provides excellent training through their BOTL video," said Gnall. "It opened the eyes of all the employees here at Lakefront Lines and Coach USA. We did not think this would happen in our area, but being aware of what is going on around us at all times and knowing what to look for really is the key. To say that the Award Ceremony and weekend getaway were astounding would be an understatement. We were treated like royalty, and I cannot say thank you enough. The award itself is also very important, because it helps to get people talking about these types of situations that would not have been a topic of conversation otherwise. I hope this keeps the conversation going in the future and opens up more opportunities for training in other industries."
Tarver declared, "The training really helped me in feeling aware and alert of my surroundings. It really opened my senses to be on the look-out for possible dangers to myself and other people. I felt empowered by thinking of the family members of the victim, and if I wouldn't have acted in the way I did, I would have probably never had a chance later, and the victim could still be in danger til this day. I can say in my three years of professional driving, I thought I would never encounter a situation like this, although I knew the possibilities were high especially after driving through major cities such as New York and Las Vegas. Some red flags that are imprinted in my mind for future situations like this one are to have a sense of all your passengers, look for any discomfort, nervousness, or anything that may seem odd in people acting strangely on my bus. I believe if everyone steps up to the plate and does the right thing, together, we can make a huge difference in the society we live in. I, too, have a daughter. She's three years of age now but will eventually ride public transportation, and I care for my daughter's safety 100 percent. I'm honored to be this year's winner for the award, and I want to thank my colleagues and Lauren for making that moment in my life possible by their quick responses as well."
Tarver and Gnall received their award from Laura Cyrus, TAT corporate engagement director, at the Protective Insurance Protective 500 Event in Indianapolis, IN, on May 25. Protective Insurance partners with TAT.
"As an organization, we know that it's the men and women of the transportation industry — truck drivers and bus drivers — the folks out on the road day in and day out, that are the real heroes of this work," said Cyrus. "It was an incredible honor to get to award Larren Tarver and Lauren Gnall as our joint winners of the 2019 Harriet Tubman Award presented by Protective Insurance. I must also thank Protective Insurance for supporting our work and this award and providing the platform and lovely venue from which we were able to honor Larren and Lauren. The entire team at Protective is thoughtful and fully engaged in supporting the work of TAT. We are grateful to have them as partners in this work!"
Press release on this event:
Protective Insurance and Truckers Against Trafficking Announce Award Recipients